eat! BRUSSELS finally returns!
eat! BRUSSELS, drink! BORDEAUX, which was cancelled last year due to the coronavirus pandemic, will take place from 2 until 11 September 2021. To celebrate its return, the culinary festival has come up with a brand-new special edition, titled "Dinners".
For the past nine years, eat! BRUSSELS, drink! BORDEAUX, the Brussels culinary festival, has traditionally been organised in early September. Last year, however, the festival had to be cancelled due to the coronavirus pandemic.
This year, eat! BRUSSELS, drink! BORDEAUX is pulling out all the stops to make up for this. From 2 until 11 September, the festival is surprising visitors with a new formula, titled "Dinners". An exclusive event, which showcases the best of the culinary scenes, in Brussels and abroad.
eat! BRUSSELS 2021: ten days, ten teams, ten menus
Every day, you have the opportunity to discover a 100% Brussels-based team at eat! BRUSSELS, drink! BORDEAUX. The team will consist of three chefs, a pastry chef, a cheesemaker, a mixologist and a brewer. Each team will serve an original and fun five-course menu with an aperitif of your choice (cocktail, mocktail, Brussels beer, or a glass of Bordeaux wine), two starters, a main course, a cheese platter and a dessert, paired with four glasses of Bordeaux wine and water.
Dinner will be served at your table, in compliance with the current health measures, in the superb Gare Maritime or Tour & Taxis freight station.
A culinary journey around the world
In addition to showcasing the talent of some leading lights of the Brussels culinary scene, eat! BRUSSELS, drink! BORDEAUX is also a great opportunity to put the partner regions, provinces and cities, with which the Brussels-Capital Region (BCR) has signed a cooperation agreement, in the spotlight.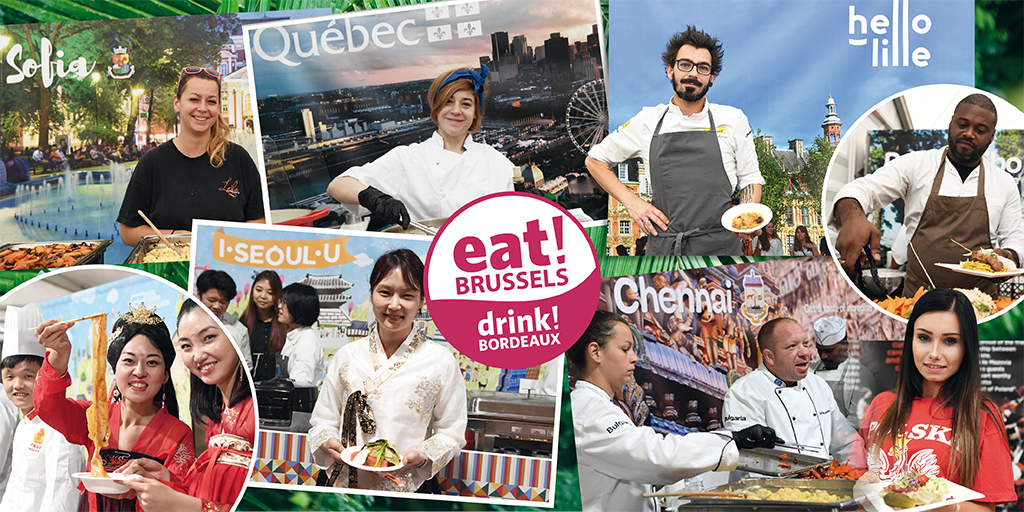 On Monday 6 and Tuesday 7 September, your taste buds will be taken on a culinary journey, during which you can discover specialties and flavours from around the world. And thanks to this year's international participants, this special edition has all the more enticing treats in store for you.
 Brussels International has succeeded in gathering Québec, the European Metropolis of Lille, the cities of La Havana, Istanbul, Xi'an, Quito and Kinshasa, the Île-de-France Region and the Federal District of Brazil (Brasilia) in Brussels for the occasion. This is a first for the two new partners of the Brussels-Capital Region, i.e., Quito and Istanbul, with which the BCR signed memorandums of understanding on 13 January and 11 February of this year respectively.


Discover these menus from "around the world" and book your table now: