Secretary general Christian Lamouline visits Vienna
From 4 until 7 October 2016, Christian Lamouline, the secretary general of the Regional Public Service Brussels, travelled to Vienna.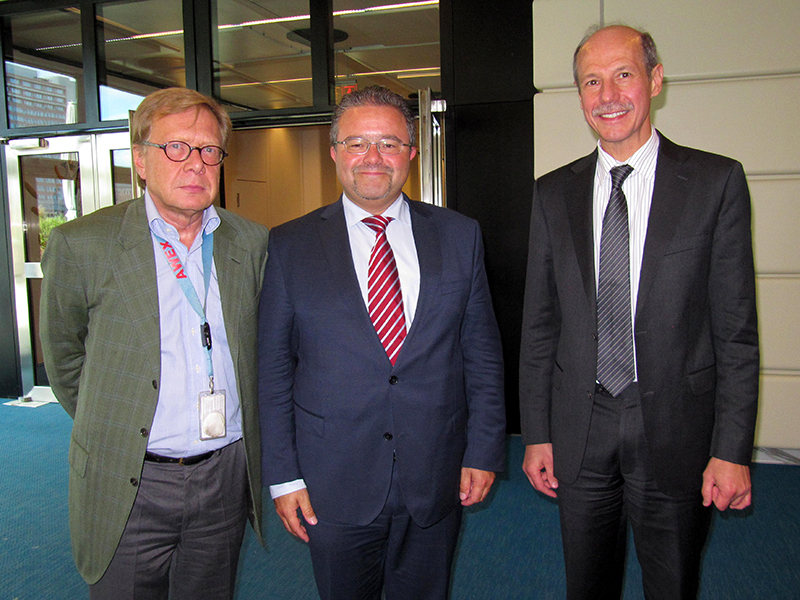 Philippe Walkiers, economic attaché in Vienna, Mr. Lamouline and Mr. Philippe Scholtès, Managing Director Unido.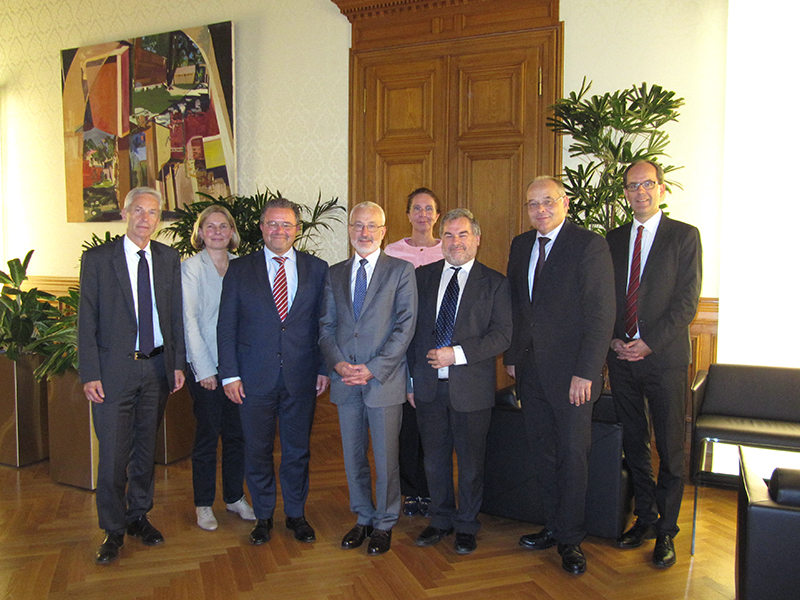 With the staff members of Mr. Hechtner, CED of the City of Vienna.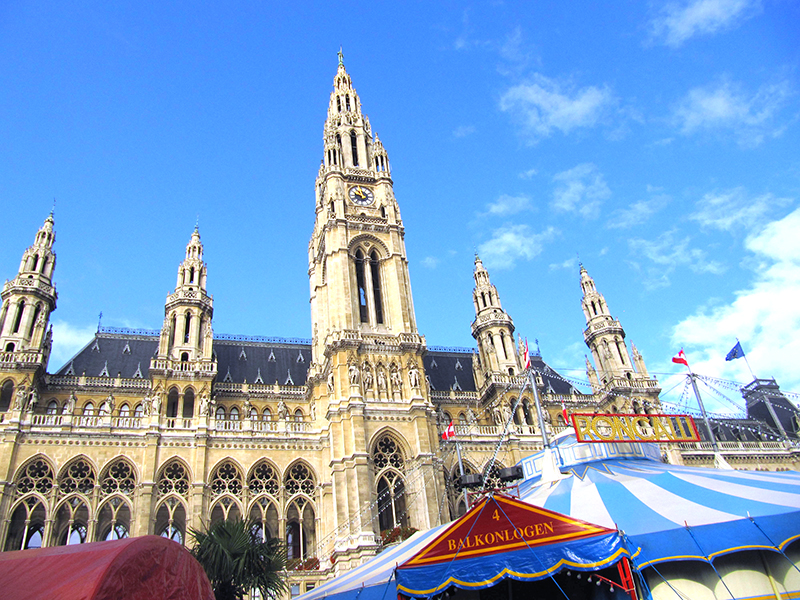 Vienna City Hall.
The Austrian capital invited Mr. Lamouline to the annual meeting of the administrators of major European cities (chief executive directors or CED meeting), which was organised on 6 October 2016 in Vienna's magnificent town hall (see photo). Brussels International had prepared an extensive programme of activities in the run-up to this event.
On Tuesday 4 October, Baron Willem Van de Voorde, the Belgian ambassador to Austria, hosted a reception in his residence where Christian Lamouline addressed an audience of local officials, businessmen and journalists. His speech focused on the security situation in Brussels following the attacks of 22 March. The secretary general stressed that Brussels continues to be a pleasant and safe city.
On 5 October, Mr. Lamouline started out his day with a working breakfast in the company of Ambassador Paul Huynen, the Permanent Representative of Belgium to the Organization for Security and Cooperation in Europe (OSCE). This meeting focused on ways of improving the image of Brussels and Belgium among the 57 members of this important international organisation with headquarters in Vienna. The secretary general of the BRPS then headed over to the UN headquarters, where he met with Philippe Scholtès, the director general of the United Nations Industrial Development Organization (UNIDO) and to the International Atomic Energy Agency (IAEA).
In the afternoon, the Brussels delegation participated in an interesting bilateral meeting with the City of Vienna. The exchanges with Erich Hechtner, the local CED, and his team once again focused on security in Brussels, and more specifically on how the city deals with terrorism. The budgetary and equal opportunities policies (gender mainstreaming) were another topic, as well as the hosting of international institutions, Art Nouveau and the renewal of the cooperation agreement between the City of Vienna and the Brussels-Capital Region. Appointments were made so the two capitals can discuss and exchange their experience in terms of Art Nouveau and the hosting of international institutions.
On 6 October, the representatives of sixteen European cities met during the CED meeting. Viennese specialists gave presentations on public governance, the management of the refugee crisis, smart cities and knowledge management. Christian Lamouline took advantage of the fact that he was addressing a select audience to relaunch his "be welcome – be.brussels" message, while discussing the Belgian and Brussels approach to tourism in more detail and dwelling on the consequences of the Brussels attacks for the city.
This visit also served to prepare the visit of Minister-President Vervoort, who will travel to Vienna on 14 and 15 November at the invitation of the Belgian ambassador to Austria.
.