The City-Province of Kinshasa and the Region of Brussels-Capital sign a new cooperation agreement
Signed during a visit by Brussels Secretary of State for Cooperation and Development Bianca Debaets between July 3 and 6, 2016, the new cooperation agreement covers five themes: the environment; reinforcing administrative and institutional capacities; IT; culture and gender, notably equality between men and women.
A view of Kinshasa - ©Yves Coudron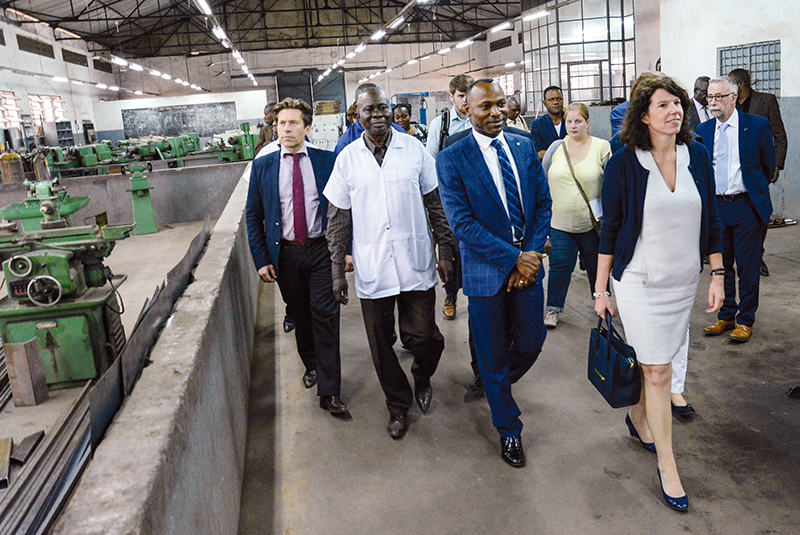 Visit to Don Bosco technical school by Secretary of State Bianca Debaets and the provincial Minister of Mines, Tourism, Culture and Arts, Ruffin Bayambudila, as well as (left), the economic and commercial attaché in Kinshasa, Jérôme Roux and (right), the deputy managing director of the BRIC, Robert Herzeele - ©Yves Coudron
©Yves Coudron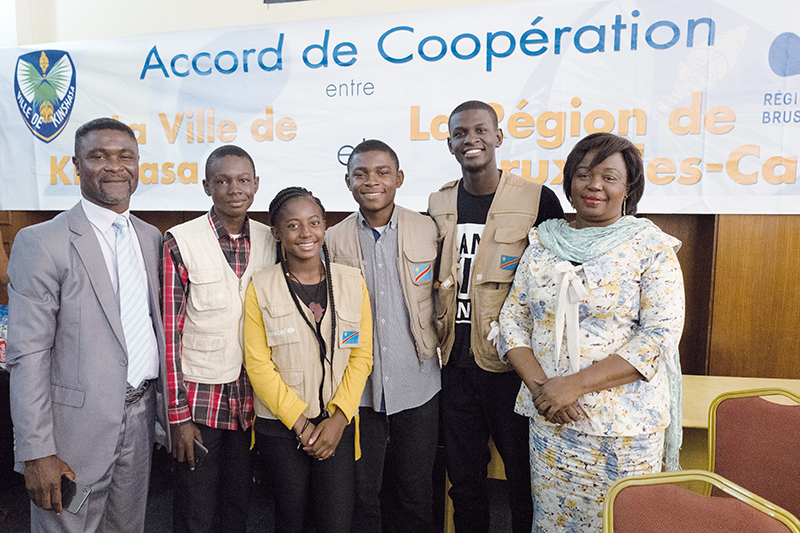 ©Credit UNICEF Belgium/Isabelle Wolff
The new agreement was barely signed when several projects were already launched in domains where synergies already exist between the two partners. This was the case with the coming inauguration of a digitruck in Kinshasa. A digitruck is a mobile and sustainable IT module placed in a container. Equipped with 20 computers connected to the Internet, LED screens and a printer, it runs on electricity generated by solar panels on its roof. The construction was entrusted to the not-for-profit Close The Gap.
The project aims at helping reduce the digital gap by organising IT courses for targeted audiences, using the digitruck and experienced staff. The training is carried out by local coaches that come from Kinshasa's "house of knowledge". The project is notably intended for: primary and secondary pupils and students, women's and young ladies' associations, local associations and NGOs as well as the provincial personnel of Kinshasa.
Wifi in two schools
Another IT project will be launched as an initiative of the Secretary of State, who is also in charge of IT and Digital Transition. The Brussels Regional Informatics Centre (BRIC) has been charged with coordinating the installation of a wifi network in two Kinshasa schools that teach IT and electro-mechanics: the Institut technique industriel de La Gombe and the Collège Don Bosco. Personnel will be trained in Brussels and remote technical assistance will be ensured. A budget of €20,000 has been allocated per school. This will enable them to choose the products and services from a catalogue (wifi aerials, cabling, maintenance, etc.) that best meet their specific needs. The wifi project will kick off in October 2016 and end fifteen months later.
Support for UNICEF Belgium's  WasH programme
Other projects will be carried out rapidly as part of the new cooperation agreement. Just as it did in Katanga, the Region of Brussels-Capital will also support UNICEF Belgium's WaSH programme in Kinshasa's hinterland schools. The programme offers an integrated approach based on access to potable water (Water), improving sanitation and access to sanitary installations (Sanitation), but also the promotion of hygiene through water (Hygiene). Safe water, better sanitary installations and good hygiene contribute to lowering the mortality rates of women and infants, equality between men and women, the reduction of illness and malnutrition as well as universal access to basic education.
Children and young people actively participate in the project's implementation and continued success. For example, students are made responsible for the correct use and upkeep of the sanitary installations. What's more, young "reporters" represent their colleagues by voicing their concerns, ideas or recommendations to the deciders implementing the project.
Following a request by the provincial Minister in charge of Education and its Administration, Thérèse Olenga, the project will work alongside the provincial "clean green school" being run by the City-Province of Kinshasa.