A Brussels seminar examines the prospectsof the Juncker Plan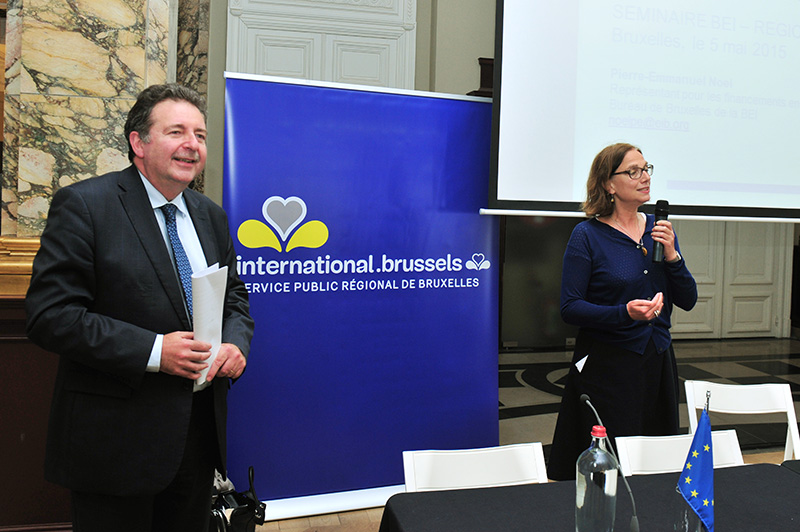 The Minister-President Rudi Vervoort and Manoëlle Wasseige, the representative of the Brussels-Capital Region to the European Union.

While an agreement seems to be in the works on the European Fund for Strategic Investments (EFSI), to be created under the Investment Plan for Europe (also called "Juncker Plan), a seminar focussing on the opportunities of the EFSI was held on 5 May on the initiative of the Delegation of the Brussels-Capital Region to the European Union.
The Juncker Plan – or to be more specific, the Investment Plan for Europe – still raises many questions. The situation should become clearer soon however. On 28 May, the Commission, the Council and the Parliament reached a political agreement on the EFSI. The Fund is the cornerstone of this relaunch plan. Some of the large Member States, like France, Italy and Germany are already preparing to take advantage of the opportunities it holds. The seminar organised by the Delegation of the Brussels-Capital Region to the European Union on 5 May in the Brussels Info Place was the perfect opportunity to take stock of the EFSI and its opportunities. The seminar with keynote speaker was
Minister-President Rudi Vervoort
was a huge success. The Fund's main principles were developed in an auditorium with Brussels political, public, parapublic and private stakeholders. The case of the European Investment Bank (EIB) was also discussed following the appointment of a bank representative in Belgium. The latter will dedicate himself entirely to providing assistance and support for Belgian projects. In the margin of this, the existence of other European financial instruments, such as the COSME and Horizon 2020 programmes, was also discussed. Several actors in the field were also invited to speak at the seminar, including Impulse, as well as UCB and Belfius Bank, in order to make this seminar more tangible. Belfius has partnered with the EIB to launch credits for cities and municipalities in the framework of Smart Cities. We hope that this initiative will lead to more projects and developments with the support of the EIB and that the people of Brussels will be more invested in European programmes as a result.