Public space, essential to the mental health and well-being of our communities
Experts and elected officials from Brussels, Buenos Aires, La Paz and Munich exchanged experiences on the importance of public space for people's mental health and well-being in metropolitan areas. A webinar that was jointly organised by the UCLG (United Cities and Local Governments), UN-Habitat and the Metropolis network.
Public space is the cornerstone of our communities. The COVID-19 pandemic underscored the relationship between well-being, mental health and safe and inclusive green public spaces more than ever.
On 7 April 2021, experts and elected officials from Brussels, Buenos Aires, La Paz and Munich gathered for a webinar, that was jointly organised by the UCLG (United Cities and Local Governments), UN-Habitat and the Metropolis network, to discuss their experiences about the value of public space for mental health and well-being in metropolitan areas.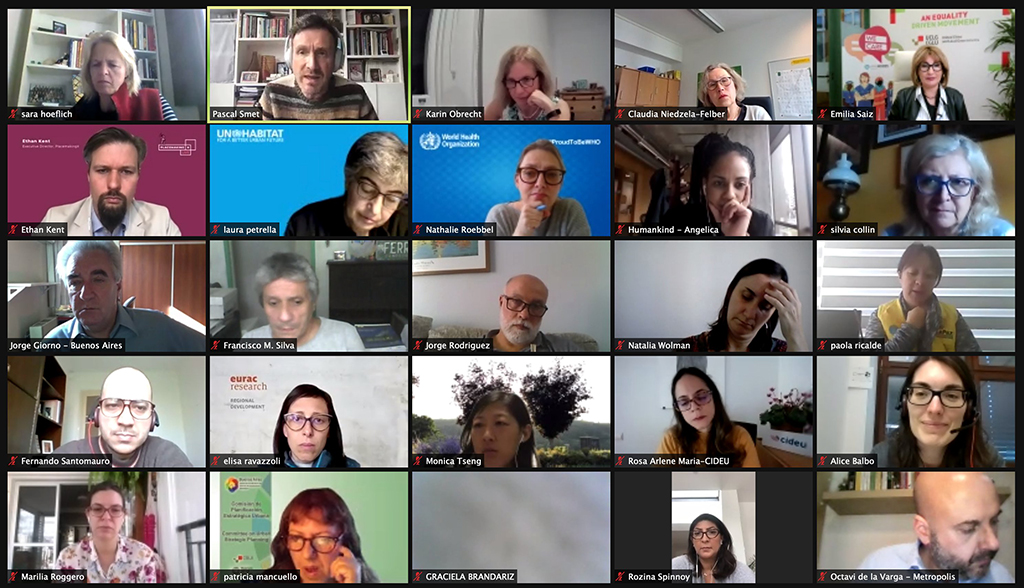 Public space, a vital aspect of human life and social interaction
Today, the majority of the world's population lives in metropolitan areas. With green and unpolluted areas, free sports facilities, spaces for children and pets, and pedestrianised shopping streets, public space plays an essential role in meetings and social interaction.
As such, it improves mental health, while contributing to the well-being of communities. At the same time, this key aspect of city infrastructure is often overlooked.
The pandemic only reinforced the inequality
The coronavirus pandemic highlighted the vulnerability of our urban spaces. Postcodes are one of the most important predictors of life expectancy. There are strong correlations between social class, race, gender, disability, etc., and health.
Today, the precarious communities in metropolitan areas are affected more than any other community by this pandemic because they have limited access to services, green spaces and quality housing. These issues and inequalities were only exacerbated by the lockdowns and restrictions in terms of mobility.
Mental health and public space
Mental health issues are on the rise. An estimated 800 million people around the world suffer from some form of mental health issue. This conclusion is particularly true in cities, which have higher rates of depression.
In metropolitan areas, access to quality green spaces, public spaces which foster plenty of social interaction, is essential to prevent mental illness and contribute to children's cognitive development.
The most effective solutions are often inexpensive and practical. They include increasing physical activity, i.e., walking or cycling, or strengthening social cohesion with citizen participation initiatives.
Transforming cities, a local approach
While not everything can be resolved at the local level, the pandemic also highlighted the key role that local and metropolitan governments play in transforming the built environment in these cities.
Local governments must return space to the population. Urban regions, such as the Brussels-Capital Region (BCR), which used to be geared towards cars, are currently transforming their urban areas. They are returning the space to the people, while improving access to public and green spaces, within walking distance, and meeting places, places where people can get out and enjoy good air quality.
"Ten years ago, the BCR started working on the transformation of its public space to return it to its inhabitants, mainly by reducing the space that is allotted to cars to pedestrians, cyclists, individuals", explained Pascal Smet, the State Secretary of the Brussels-Capital Region, responsible for Urban Planning and Heritage, European and International Relations, Foreign Trade, Firefighting and Emergency Medical Assistance. Smet is also the Vice-President of Metropolis. "The coronavirus pandemic gave rise to a significant increase in the number of initiatives in cities around the world. It reminded us all how much we value social interactions. And that is what cities are: places where people can easily meet. Much like a living room is the most important room in our homes, public space is a place where we live, where we like to meet up, and where we engage in various activities."


Thanks to this health crisis, we have rediscovered the value of public space as a key factor in people's well-being. We must continue to rethink our urban spaces to make them more inclusive, democratic, sustainable and healthy.