The Green Trip 2020 wound its way through the Brussels-Capital Region
The Green Trip 2020 wound its way through Belgium and in particular the Brussels-Capital Region. Discover the sustainable projects that were set up with support from the European Regional Development Fund (ERDF), that were visited by influencers Sara Lou, Laura and Morane.
The Brussels-Capital Region (BCR) participated in the Green Trip campaign, a European initiative as part of which 15 young influencers visit more than 70 sustainable projects. The team includes three Belgian influencers, namely Sara Lou, Morane and Laura from the desert.
Sara Lou: cycling on the short circuit
For Brussels-based Sara Lou, sustainable urban living in Brussels is just as easy as hopping on your bike! 



The young influencer visited the non-profit organisation CyCLO, whose activities tackle three challenges: mobility, employment, and the environment. There she met with Caroline, who is the organisation's communication officer, with whom she visited cycloparking.brussels at the Bourse, a project which was set up by CyCLO with European funding. Proof that Brussels has secure, easy to use and available bicycle parkings, thereby encouraging people to take to their bikes.
Sara Lou also visited the BoerenBruxselPaysans project in Neerpede (Anderlecht) by bike. There Robin, the project's communication officer, explained the project to her, which consists of transforming land by growing, processing, and distributing produce on it. Many different types of vegetables, plants and fruit are grown and sold directly to consumers in the form of veg boxes. Sara Lou harvested some vegetables herself for a box. The visit convinced her of how important it is to raise citizens' awareness about eating local and sustainably-grown food.
Laura from the desert: avoiding waste is possible in every field
During her journey, Laura discovered initiatives that illustrate the reusable potential of materials. Or how be creative when it comes to fighting waste…
The Ghent-based influencer first visited L'Ouvroir, an artisanal book binding workshop where they also restore books. There she met with Damien, who runs the workshop, which was established in the 1920s. Today L'Ouvroir trains young workers in a sustainable trade that benefits the local community. L'Ouvroir is one of 11 adapted companies in Brussels, which work with people with disabilities.
Thanks to the European Dev'Up Team project, L'Ouvroir was able to develop its upcycling service offering, which recycles materials that are designated as waste. Laura discovered a whole range of know-how, from recycling bus and tram seats into bum bags or rigid cases, old maps of the National Geographical Institute that were transformed into notebooks, tarpaulins from the European institutions which have been recycled into bags, and more. She was able to see the reusable potential of materials first-hand and understand how this new service offering can contribute to the Brussels ecosystem in terms of sustainable challenges and on an economic level.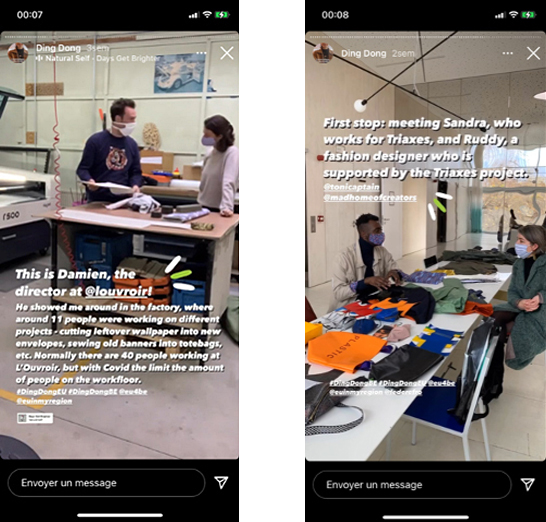 Laura also enjoyed the creative atmosphere at MAD, Home of creators, the Brussels-based design and fashion platform. Her visit focused more specifically on the European TRIAXES project, that provides coaching and support to young designers for the development of their products. Sandra, who works within the TRIAXES programme, welcomed Laura to MAD.
The influencer then met with Ruddy, whose sustainable fashion project received support from TRIAXES. He makes bags and face masks from truck tarpaulins and seat belts. TRIAXES gave him the confidence he needed and helped him to better position his product to develop it. Finally, Laura also met Jean-Baptiste, an industrial designer who works as an expert at TRIAXES. There he coaches young designers, helping them to develop their project and prove that fashion and design can be sustainable.
Morane: from soil to plate
During her journey, Brussels-based Morane learned more about techniques and tactics at the forefront of sustainable farming, composing and food.



At Be-Here, she was greeted by the organisation's coordinator Allison, who presented the concept to her: offering local and sustainable businesses a place where they can grow, set up business partnerships and connect with customers. The companies at Be-Here operate in various industries, such as fermentation, food and even music. Morane also met Yannick, who is a keen promoter of all things fermented, with whom she made kimchi, a traditional Korean side dish of salted and fermented vegetables and seasonings.
The influencer then visited the BIGH urban farm and its aquaponics projects. The farm, which is built on the rooftops of the new FOODMET food hall in the slaughterhouse in Anderlecht, makes it possible to satisfy the need for fresh food products while making efficient use of available urban space.