Second annual report of the Brussels development cooperation
Brussels International has recently published the second annual report of Brussels' development cooperation activities. The report highlights the change in orientation in the capital region's development cooperation in 2018. The local authorities and civil society organisations are now regarded as real partners rather than just being the beneficiaries of funding.
During the 2014-2019 legislative term, development cooperation became a full-fledged policy of the Brussels-Capital Region.
In 2018, the capital region changed its approach, following an implementation decree which established a new cooperation framework for Brussels International and its partners. Under this innovative approach, the traditional lender-beneficiary relationship has become a relationship between real partners, who share the same objectives and responsibility for the obtained results.
Four cooperation agreements
In 2018, Brussels signed cooperation agreements with two new partner regions: Chennai in India and Paramaribo in Suriname, joining Rabat-Salé-Kénitra in Morocco and Kinshasa in the Democratic Republic of Congo. The projects that will be implemented in the future in these regions are part of this new vision.
More than one million euros for international solidarity
In 2018, the budget of the Brussels development cooperation exceeded the symbolic threshold of one million euros, attesting to the Brussels-Capital Region's clear desire to contribute – in line with its means – to international solidarity. Just under 85% of this budget was allocated to civil society organisations.
Coordinating varied and promising initiatives
Besides the development cooperation policy of Brussels International, the Brussels-Capital Region is also involved in various initiatives of international solidarity, ranging from ad hoc exchanges between an administration and its Southern counterpart to significant "climate" funding for developing countries.
The Region, which is aware of how promising these initiatives are and the need for coordination, has established a committee for the exchange of information between the Brussels institutions that are cooperating directly or indirectly with developing countries. It also serves as a platform for a dialogue with experts and with other levels of government in Belgium.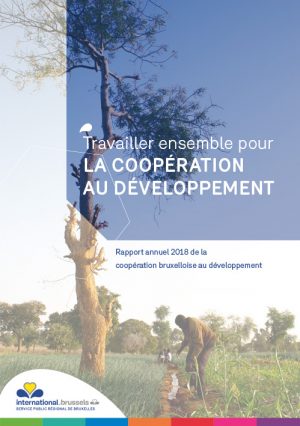 For more information
Kindly refer to the annual report of the Brussels Development Cooperation.
Contact Sophie Willaumez (swillaumez[at]sprb.brussels – +32 (0)2 800 37 40)
with questions or requests for additional information.