Bilateral contacts with Kiev
Brussels International (BI) travelled to Kiev on 21 and 22 September 2016 to participate in the joint Ukrainian-Belgian intergovernmental commission and maintain bilateral contacts with the Ukrainian capital.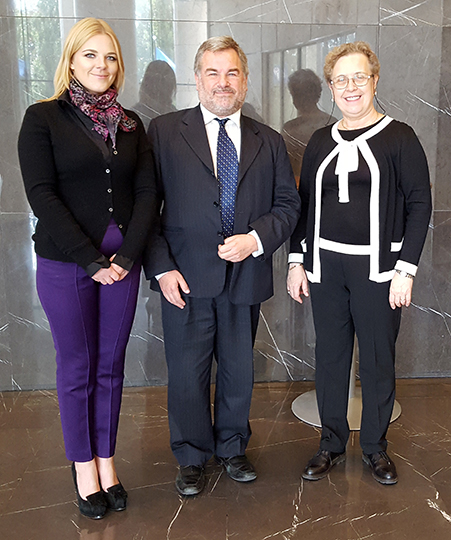 Elena Kotliarova, City of Kiev, Daniel Verheyden, Brussels International, Tatiana Korotitch, economic attaché Awex/BI&E in Kiev.
The Federal Public Service Foreign Affairs invited BI to represent the Brussels-Capital Region at the meeting of this biennial commission on economic contacts between the two countries. In consultation with Brussels Invest & Export, Daniel Verheyden gave a presentation on ICT and innovation in Belgium. The Business Forum that was organised simultaneously was attended by 260 companies.
Twentieth anniversary of the partnership between Brussels and Kiev
The bilateral contacts with the city of Kiev culminated in a collaborative calendar in the fields of Art Nouveau, urban planning and architecture. In 2017, Kiev will take part in the eat! BRUSSELS festival. On this occasion, we will also celebrate the twentieth anniversary of our cooperation agreement.