Moroccan students visit Brussels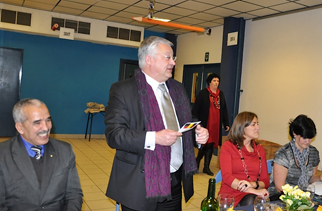 Mr Zaaraoui Ahmed, headmaster of the Moulay Youssef Secondary School in Rabat, the Minister for External Relations, Guy Vanhengel, Mrs Anne Claes, Director of the External Relations Directorate with the civil servant in charge of organising the exchange, Mrs Marie-Christine Mathieu and (in the background) Mrs Ilse Broeckx a.i., the headmistress of the Victor Horta School in Evere, during the evening reception.
From 29 January until 3 February, twenty students from Rabat and Salé, accompanied by their teachers, travelled to Brussels in the frame of an intercultural exchange between Brussels schools and the Region of Rabat Salé Zemmour Zaër (Morocco). The students of the Lycée Moulay Youssef in Rabat and the Lycée technique Al Faraby in Salé came to Belgium to meet their peers in three Brussels schools: the Victor Horta school (Evere), the Frans Fischer Institute (Schaerbeek) and Elishout school (Anderlecht). The meeting was more of a full cultural immersion given that the young Moroccans stayed with families of their Brussels hosts.
Sustainable development was the main theme during this varied and rich exchange. In addition to an educational visit to the « Inside Princess Elisabeth Station » exhibition the programme also included a workshop on climate change, organised by the non-profit organisation Green at the Polar Foundation as well as a presentation of waste sorting techniques and a visit to the advanced technology centre of the Frans Fischer Institute. The students also gave a presentation of their respective regions as well as exploring Brussels and its European neighbourhood, including the Parlamentarium. They also met with Minister Guy Vanhengel, the President of the Council of the Flemish Community Commission, Jean-Luc Vanraes and a representative of the Moroccan Ambassador to the Kingdom of Belgium. On this occasion, they all asserted their belief that contacts between young people from different cultures promote a better understanding of the customs and traditions of others as well as the integration of our young people in a multicultural region like Brussels. This is the second consecutive year that this initiative was organised, in the frame of a partnership between the Brussels-Capital Region and the Region of Rabat Salé Zemmour Zaër (Morocco).