Brussels International publishes its first annual report of Brussels development cooperation
In light of the adoption, in July 2017, of a government ordinance that established a development cooperation framework, Brussels International has recently published the first report of Brussels' activities in development cooperation. This report enables readers to gauge the extent of the work accomplished since 2014 and goes into further detail about all the actions that were taken in 2017. It is a valuable tool, both for the people of Brussels as well as the partners of Brussels International, who are interested in learning more about the Region's initiatives of international solidarity.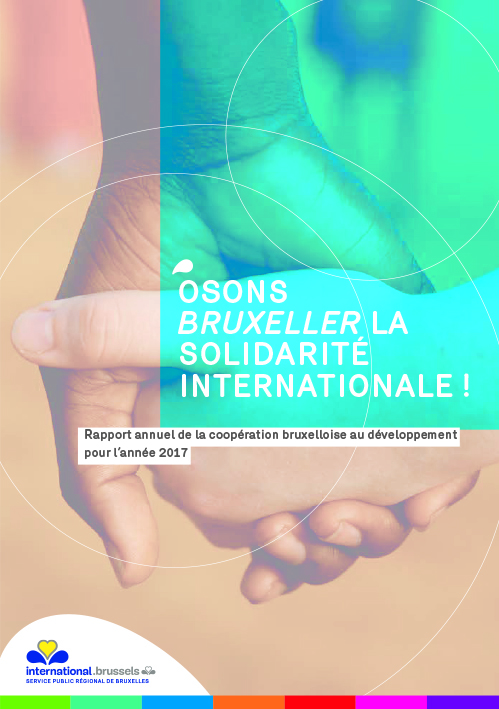 The Brussels-Capital Region has implemented its new development cooperation policy since the start of the current legislative term. Following a two-year period, during which the foundation for this new policy was laid, Brussels development cooperation now has the tools it needs to reach lasting results and contribute to creating a more inclusive, fair world.
The report states that Brussels development cooperation was primarily organised and structured in 2017, after the framework ordinance took effect, marking the start of a new phase for our Region.
A real commitment to international solidarity
In 2014, the budget of the Brussels development cooperation amounted to €100,000. Since then it has increased, first to over €900,000 in 2017, and then to one million euros this year. Although these resources are relatively modest, this budget increase nonetheless attests to the Brussels-Capital Region's desire to contribute to international solidarity and tackle the challenges of the 21st century. Moreover, the Region its development cooperation plans to function as a lever, by rigorously choosing projects with a multiplier effect.
Urban areas and challenges are a top priority
In 2017, Brussels development cooperation therefore clearly defined its scope, to ensure its actions are effective and easy to understand for partners and Brussels tax-payers: the emphasis is on urban areas and challenges. This choice is entirely in keeping with the expertise and the nature of Brussels as a metropolis.
Support for civil society
The Brussels-Capital Region first and foremost provides support to projects that are launched by, or involve, citizens and the beneficiaries of these projects as much as possible. In 2017, most of the funding of Brussels development cooperation therefore went to associations, with 85% of the budget earmarked for civil society organisations in the widest possible sense, for actions in the North and the South.
To find out more about Brussels development cooperation, download the full report from the link below.