Oslo is interested in the Brussels pedestrian zone
On 19 and 20 May 2016, Brussels International welcomed a delegation from the Norwegian capital that came to learn more about how the centre of Brussels is becoming pedestrian-friendly.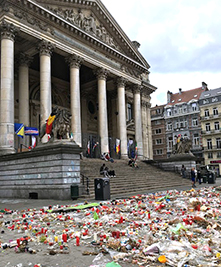 The memorial for the victims of the attacks of 22 March in place de la Bourse.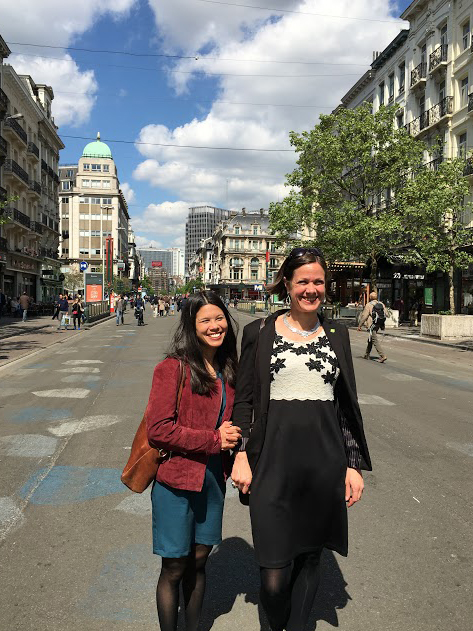 Mrs Lan Marie Nguen Berg, Vice-Mayor for Environment and Mobility and Mrs Hanna E. Marcussen, Vice-Mayor for Urban Development visit the pedestrian zone.
The delegation, which was led by the Vice-Mayors of Oslo for Urban Development, Environment and Mobility, consisted of 21 members of the "Oslo Alive" committee. Their objective was to explore the pedestrian zone in the centre of Brussels, which was selected as the best example of a car-free city centre in Europe by the Norwegian transport research institute.
Minister for Mobility Pascal Smet and Professor Cathy Macharis, President of the Region's Commission for Mobility, received the delegation and gave an introductory presentation on the pedestrian zone.
Atrium, the regional trade agency which is in charge of revitalising the city's commercial districts, then gave the delegation a tour of the centre of Brussels, discussing the response of the local traders and its working methods. The visit ended with a beer tasting session at the Brussels Beer Project, which works with three Norwegian breweries.
On 20 May, the delegation met with Yvan Mayeur, the Mayor of Brussels, and several representatives of the city's aldermen and city services. The delegation left for Oslo with a better idea of how to set up a car-free zone in their own city.