A Québec delegation visits the non-profit organisation Le 8ème Jour
The non-profit organisation Le 8ème Jour develops housing projects for people with disabilities. From 7 until 14 September, it received visitors from an organisation in Montréal that operates along the same lines, on the occasion of the inauguration of a new project in the Marolles neighbourhood.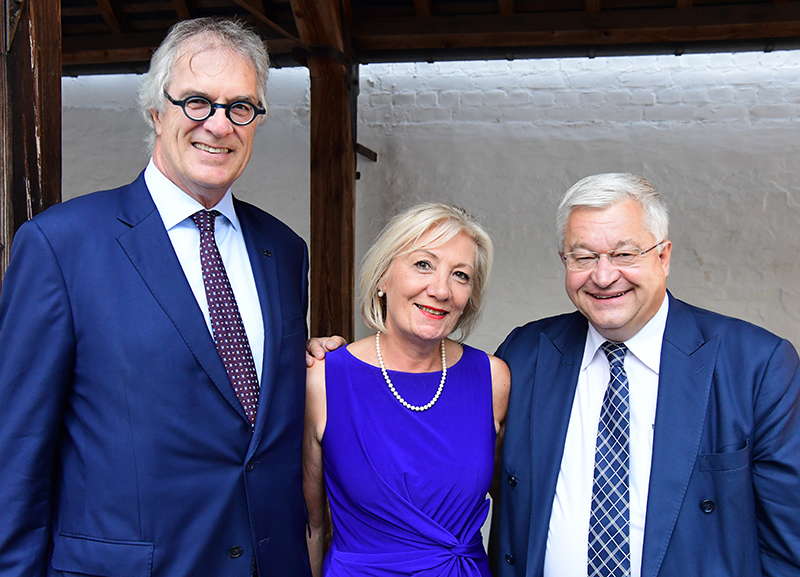 Michel Audet, the Delegate General of Québec in Brussels, Clémentine Deferière-Buggenhout, the President of Le 8ème jour, and Guy Vanhengel, the Minister of External Relations.
The non-profit organisation Le 8ème Jour aims to offer adults with disabilities a living environment that allows them to live in relative autonomy. It develops housing projects/apartments for them, which they can share with friends, while relying on the presence of people who can help them and who also live in the building. This allows people with disabilities to live in their homes and work.
The organisation, which was founded in 2000, now has five homes in the Brussels Region. The most recent project was inaugurated on 11 September, in the Marolles neighbourhood in the centre of Brussels. Le 8ème Jour has also created its first day centre in the same building. The centre, which has a capacity of ten people, is special in that it focuses on the city. Most of the activities thus take place outside the centre.
On this occasion, Le 8ème Jour invited a sister organisation in Montréal, called Utopie Créatrice, to visit the new housing and centre from 7 until 14 September. For several years, Brussels International has entrusted Le 8ème Jour with international missions with the aim of sharing the experience and knowledge of Le 8ème Jour in a bilateral or multilateral framework and promoting its unique project, to give people with disabilities more autonomy.
Utopie Créatrice has directly benefited from this. Thanks to its privileged partnership with Le 8ème Jour, the organisation was recently able to open its first home, which is inspired by the Brussels model. Three of the residents also travelled to Brussels.