Welcoming about 30% more visitors compared with last year, eat! BRUSSELS 2016 attracted a huge crowd… and a hungry one at that, given that they ordered 30,000 dishes and enjoyed 80,000 wine tastings!
This year, the festival's organisers also wanted people to be able to enjoy some Brussels culinary discoveries. That is why they innovated the festival's concept, inviting twenty Brussels master chefs to take turns every day and let the public taste some signature dishes of their culinary repertoire. People with more adventurous taste buds, as usual, made a beeline for the village of the international partners of Brussels International: eight of them travelled to Brussels, serving one or two different dishes every day and putting iconic specialities of their region in the spotlight.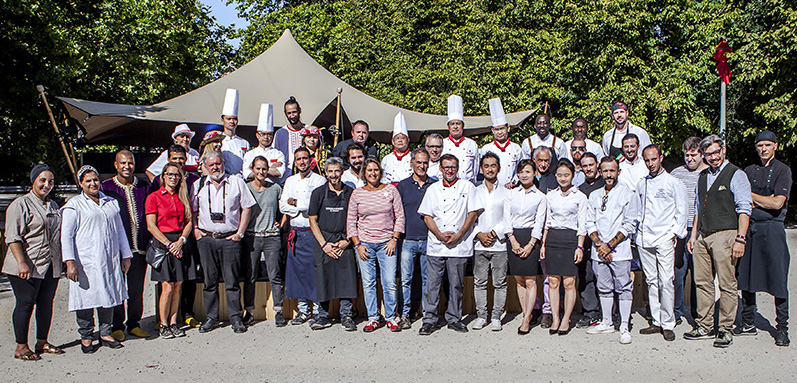 AFRICA
Kinshasa
The ink on the cooperation agreement between Kinshasa and our Region was barely dry and already our Congolese partner spoiled us by sending the amazing chef Christian Baby Yumbi to eat! BRUSSELS. He created a new take on such local products as antelope, crocodile, plantains, and so on. Christian, who has worked for many of the best restaurants in Belgium before opening his own in Kinshasa, delighted us with precision cooking, beautifully balanced and surprising flavours and elegant presentation. And to prove how much our partners value this festival, Kinshasa even sent an official delegation.
Rabat
Like every year, the public once again enjoyed the copious couscous, tajines and lovely Moroccan pastries at the stand of Samraa, a caterer from Rabat.
This year marked the fifteenth anniversary of the cooperation agreement between the Brussels-Capital Region and the Region of Rabat-Salé-Kénitra. An official delegation headed by the Region's president took advantage of the festival to meet with the Brussels authorities. The anniversary was also highlighted with the concert of a group of traditional musicians who set the mood in the international village!
ASIA
Sichuan
The team of Daronghe restaurant from Chengdu once again served up an array of spicy and peppery specialities from Sichuan. Tasting this unique cuisine without having to leave Brussels is an excellent opportunity to move away from the westernised flavours of certain Chinese restaurants, which have been adapted to European palates. These dishes pack a punch! But every year, the stand draws a loyal crowd of regulars who flock to it for dan-dan noodles or mapo tofu!
Beijing
Beijing's stand was a real hit with the public this year! In fact, it was so successful that the friendly team of Minzu Hotel often run out of food. It has to be said though that the Peking burgers and dim sum with prawns were simply excellent. These two dishes resulted in long lines of enthusiasts at the stand of the Chinese capital during the four days that eat! BRUSSELS was organised.
Une délégation de Beijing Tourism a rendu visite au festival, et était très enthousiaste aussi.
AMERICA
Quebec
This year, La Petite Cabane à sucre, a shop in Quebec, represented the province, serving a wide array of delicacies. The Belgian chef Olivier De Laere introduced us to various specialities from the region, including maple vinegar pearls, organic maple syrup flavoured with yuzu and even maple mustard. Fans of Canadian cuisine also enjoyed two versions of poutine, a more traditional style dish and a more innovative take. The store also sold several Quebec delicacies as well as excellent beers from some of the region's microbreweries which were sold there.
EUROPE
Mazovia
This year again, the friendly Mazovian team was bursting with energy, welcoming everyone in their traditional dress! Their pierogi, a type of savoury ravioli stuffed with mushrooms and sauerkraut, once again pleasantly surprised visitors to the Polish stand.
This year, our two regions are also celebrating the fifteenth anniversary of their cooperation. A delegation of artisan potters was also on hand at the stand, which offered tastings and sold typical Mazovian products. People of all ages were able to try their hand at pottery and spin the pottery wheel. Several curious visitors accepted the challenge and enjoyed this friendly introduction.
Sofia
Every year, Sofia sends a delegation of various chefs to the festival, giving the people of Brussels the opportunity to discover a new side of Bulgarian cuisine. This year, our Bulgarian guests presented a variation on dumplings called mékitza. The savoury ones are served with lashings of lyutenitsa (the Bulgarian equivalent of ketchup!) or lyutivka, a spicy bell pepper caviar. The sweet dumplings are served with honey or blueberry jam. What a delicious discovery!
Ljubljana
As was the case in previous years, the Slovenian capital was represented by one of its best restaurants, Gostlina na gradu. For eat! BRUSSELS 2016, the team served a historic recipe, called Vodnik salad. The recipe for this beef tartare dates from 1799 when Valentin Vodnik published the first cookbook ever to have been written in Slovenian.
Tastings of Brussels delicacies
The Brussels chef Albert Verdeyen entertained the public in the international village with live cooking sessions during which he proposed variations on the iconic Brussels dish of stoemp (mashed potatoes with vegetables).
Verdeyen was also joined by Carlo de Pascale, the owner of Mmmmh!, who helped him prepare and plate 200 servings of pasta all'amatriciana in just under 90 minutes on Saturday evening. The funds raised during this pasta drive will be donated to the Italian town of Amatrice and the surrounding region, which was hit by an earthquake last August.
See you in 2017 for some new and exciting adventures!